Careers
At Aditya Birla Insulators, our work culture is oriented to the core values of the Aditya Birla Group — integrity, passion, commitment, seamlessness and speed.
Aditya Birla Insulators values its people as its most precious asset. The company accords highest importance to the welfare, health, safety and satisfaction of the employees.
All business activities are carried out seamlessly, with clearly defined roles and responsibilities and well laid-out procedures. The company works towards creating a positive work ambience for all employees to grow and prosper.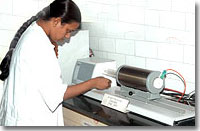 The organisation is committed to develop a world-class workforce by offering challenging assignments and opportunities to apply learning in an environment replete with robust mentoring and coaching systems. The organisation encourages the continuous growth of employees through delegation and empowerment.
We recognise the value of providing continuing education in the skills and career development of the employees. The aim is to create highly motivated individuals who will work well as a team, with a sense of belonging and commitment.
Click here to apply for a job at Aditya Birla Insulators